Toyota Safety Sense 2.5 and 3.0
Toyota Safety Sense or TSS for short is the name given to a group of active safety technologies that are standard equipment in virtually all Toyota vehicles.  You don't have to pay extra for these advanced features that help to keep you and your family safe.
Automatic Highbeams
Pedestrian Detection
Lane Tracing Assist
Pre-Collision System
The Pre-Collision System or PCS utilizes advanced radar and camera technologies to constantly scan ahead of your vehicle to detect obstacles, stopped or slowed vehicles or pedestrians.  When the system detects a potential obstacle there is a visual warning light that appears on the dashboard, plus an audible warning.  If you apply the brakes, the system may add additional brake force to help stop your vehicle before a collision.  If you do not apply the brakes the system will automatically apply the brakes to avoid a collision or reduce damage.  In vehicles equipped with TSS, the system also recognizes pedestrians and will also apply the brakes if necessary.  In most cases the Pre-Collision System enables automatically when the vehicle is started.  If you choose, you may switch of the Pre-Collision System.  An icon will appear to indicate the PCS system is inactive.
Full Speed Dynamic Radar Cruise Control
Toyota vehicles equipped with Toyota Safety Sense will include Dynamic Radar Cruise Control.  As the name implies the system uses radar technology to detect the distance between you and the vehicle in front of you.  You can set the system to maintain a specific following distance and your Toyota will maintain it. If the vehicle on front slows down, the system will slow your vehicle down accordingly.  The Curve Speed Management System will determine if speed needs to be reduced when approaching a curve.  It will decelerate automatically.  Toyota Safety Sense 3.0 also adds Front Cross Traffic Alert.
Lane Departure Alert
Dyanamic Radar Cruise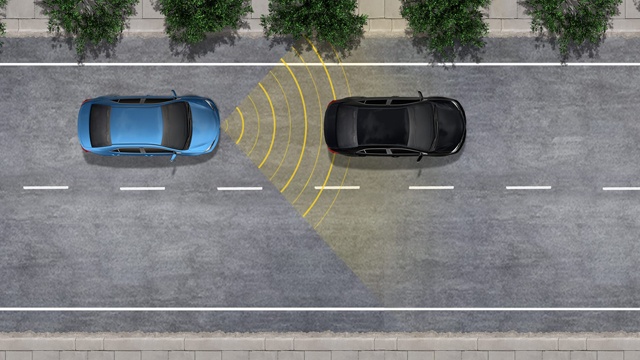 Pre-Collision System
Automatic High Beam
This Automatic High Beam feature is designed to detect oncoming traffic at night and switch between you high and low beam headlights automatically.  It will also detect the taillights of vehicles you are following at night and switch to low beams.
Lane Departure and Lane Tracing Assist
Lane Departure Alert is an advanced technology that detects visible lane markings and will warn you if you happen to drift out of your lane without signaling at any speed over 50 km/h.  On some Toyota models the system also includes a steering assist feature that gently corrects your vehicle's position in the lane.  Toyota Safety Sense 2.5 and 3.0 also includes Lane Tracing Assist with Enhanced Line and Road Recognition.  The system will recognize the line of travel where road markings are temporarily obscured or missing.